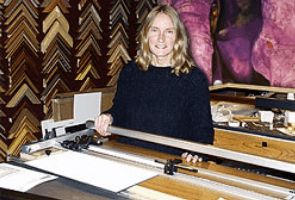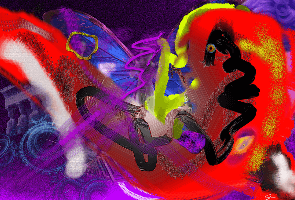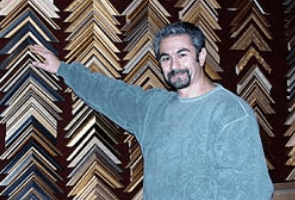 "Art is the very essence of life. What and how you surround yourself with it describes the type of person you are. It anchors your presence and propels your future in that direction." - Jim Looney
The Evolution of SULLY Framing & Art
In 1986, I watched an artist calculate the cost of a frame for a customer. He measured the piece and wrote down the measurements. Then he asked the customer how many mats they wanted, looked in a book full of tables to determine the cost and wrote it down. He determined the type of glass the customer wanted, looked in a book full of tables and wrote the cost down. And so on and so forth. Upon determining all the customer's specifications, he calculated the tax and gave the customer a price. After observing this tedious task, I decided there must be a more efficient method one could use.
I - Jim Looney - always interested in the latest and greatest gadgets, and having just returned from Tokyo with a pocket-type computer (4Kb and programmable in BASIC), wrote a program to allow the artist to calculate the cost of a frame in less than a minute. He was so impressed that he thought we should market this computer with the software&and so we did. The product was called Comp-u-Frame. We attended our first picture framing trade show in September 1986, sharing a booth with Roanoke Moulding Design. It was then that I began to rethink what I was doing working for the Government, and that I should return to my roots of talent - ART. Shortly after determining that marketing the Comp-u-Frame product was cost-prohibitive, I decided to start my own picture framing and art business. My friend (and partner in the Comp-u-Frame business), Cosmo Quattrone, and I attended the North Carolina Framing School to eagerly learn about the business. After returning from North Carolina, we purchased all the equipment and supplies necessary to start the business.
Having decided to open the business in a new shopping center being built in Centreville called Sully Station, we decided the most appropriate name for the business would be SULLY Framing & Art. Since the shopping center was not going to be completed for another 6-8 months, we printed business cards, letterhead, envelopes, etc, and started doing framing from my basement. After putting in 8 hours with the Government - commuting to and from Washington, DC - we framed artwork for our customers until midnight or later almost every night. It was not long after, that Cosmo informed me that this was not for him. I bought out his interest in the business and took over the company.
Relocation
Almost one year later, I opened a store front operation in Market Station, Leesburg, Virginia. I hired two artists to operate the store while I maintained my Government job. In less than a year's time, I decided to move the business back to my home. One of the artists, Leslie Dann-Barber, agreed to operate my home-based business. She also learned how to frame and is now one of the areas best framers. What's better is that we are still working together.